If you have any questions, contact Lynne directly at lynne@spiritofliferecovery.com.
Breaking Point Intervention
Thursday nights at 6:30 pm for 4 weeks
January 18th-February 8th
Taught by Lynne Montegary
Meets at: 
18652 Florida Street, Suite 200
Huntington Beach, CA  92648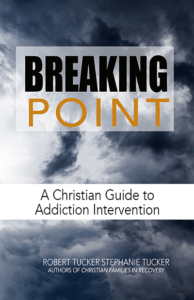 Are you trying to manage the storm of addiction? Do you feel worn down, tired and unsure where to go? Breaking Point is an intervention program designed for family members to be empowered and equipped with tangible solutions. This material will help you to assess, understand and get the help you need to stabilize the situation and make decisions that will move you away from crisis and into a plan. A personalized program is available upon request for an additional fee.  Cost is $10 per class, but scholarships are available.
Topics include:
January 18th: Intro to intervention
January 25th: How to handle someone else's addiction
February 1st: How to Help, How to Not Help
February 8th: Intervention planning
Is there a fee?
Donation fee of $10 per workshop session is requested. A $5 workbook titled Breaking Point is required for this workshop. It can be purchased at our location or through Amazon.
---
The  Christian Codependence Workshop – Introduction Workshop (On-Site Only)

Thursday nights at 6:30 pm for 15 weeks
February 15th-May 24th
Taught by Lynne Montegary
Meets at: 
18652 Florida Street, Suite 200
Huntington Beach, CA  92648
The Christian Codependence Recovery Workbook: From Surviving to Significance is a spirit-led process of self-confrontation and truth-finding where we will be able to dig deep into harmful patterns and belief systems that have "blocked" us. At the very same time, we will learn the radical and perfect relationship skills formed by our Creator, God. This will enable us over time to find balance, healthy boundaries and move into authentic identity.
Workshops Include:
Facing Codependence
Family Systems
Emotional Strongholds
Love Systems
Ceasing Control: The Pathway to Surrender
Breaking Free From Denial
Exposing Shame
Receiving the Gift of Forgiveness
Offering the Gift of Forgiveness
Embracing Identity
Building Healthy Boundaries
Balancing Principles u0026amp; Promises
Is there a fee?
We do not charge a fee but request a donation of $10 per workshop session, led by a professional, experienced counselor. By donating, it will allow us to continue to provide our services to our local community and church. You can make donations weekly, monthly or in one sum for the 15-week workshop. If you cannot afford a donation, please talk directly to us and we may be able to support your need. Books are required to purchased either through us directly or from any online retailer such as Amazon or Barnes and Noble. The book is also available by Kindle. We do offer a PDF version of the book for anyone registered for the workshop that can't afford to purchase it. Thank you for supporting our ministry!
A House that Grace Built – Advanced 
Workshop (On-site Only)
Coming later in 2018!
Meets at: 
18652 Florida Street, Suite 200 Huntington Beach, CA  92648
What is this workshop? 
A House that Grace Built is an application driven process that takes codependence recovery to a deeper level, allowing us to utilize the spiritual resources we need to live this life as God intended. It is truly about building a life that is based on God's design rather than survival.
Through this second phase of recovery we'll be dealing with some specific areas including:
Understanding how to gain new coping mechanisms
Gaining tools to grow and mature spiritually and emotionally
Identifying the principles that drive relationships in a healthy way, and those that are destructive
Learning about the nature of intimacy, and how God designed our hearts to carry different purposes relationally
Embracing redemptive principles where we can look at each specific relationship past and present and apply God's healing (this will include childhood, marriage, children, romantic relationships, etc.)
Developing solid boundaries and spiritual protection based on God's truth and the resources of His Spirit – loving people as He designed, but protecting ourselves from unhealthy influences
Forming a heart and desire for authentic character development based on God's Spirit, not outward behavior
Seeing this life through the canvas of eternity, a perspective that is more far reaching than what we can see with our eyes