A House That Grace Built Workshop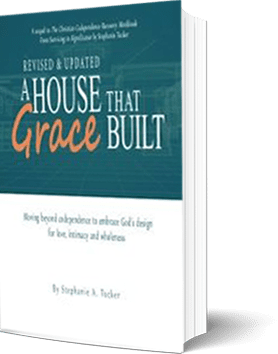 Begins Wednesday, September 28th
10:00 AM - 11:30 AM for 16 Weeks
Taught by Stephanie Tucker
The workshop explores the deeper principles of codependence recovery using a Biblical overlay. We assess the issues of the soul using God's perspective in our relationship with Him and each other. It's a journey designed to bring us deeper into the broken roads we've travelled, and the way God wants to mend, rebuild and re-establish His ways. It is encouraged but not required that you completed The Christian Codependence Recovery workshop.
This workshop is done in an online classroom structure with a time for Q&A and shares. It is not necessarily a small group. This workshop can be done with others but its intent is to lock hands with Jesus and experience the personal work of redemption in our hearts.
Promote Growth & Healing
Understand the principles of healing for the long haul. This includes transformation, grief management and walking in the Spirit.
assess Core Intimacy Needs
Learn about intimacy through God's heart and understand how to find hope in its design. Develop tools to manage unmet needs.
Apply Relational Healing
Discover rooms of the heart and understand the people that have caused hurt, pain or neglect. Apply God's redemptive ointment to overcome the effects and damage of the past.
Develop Boundaries
Learn the ramifications of spiritual and inner boundary structures. Discover the proper placement of relationships to establish gates around our heart built on love.
We request that you would donate to support the mission and work of Spirit of Life Recovery. Registration includes live zoom, online course with book downloads, notes and weekly e-mails.
Already registered? click here.